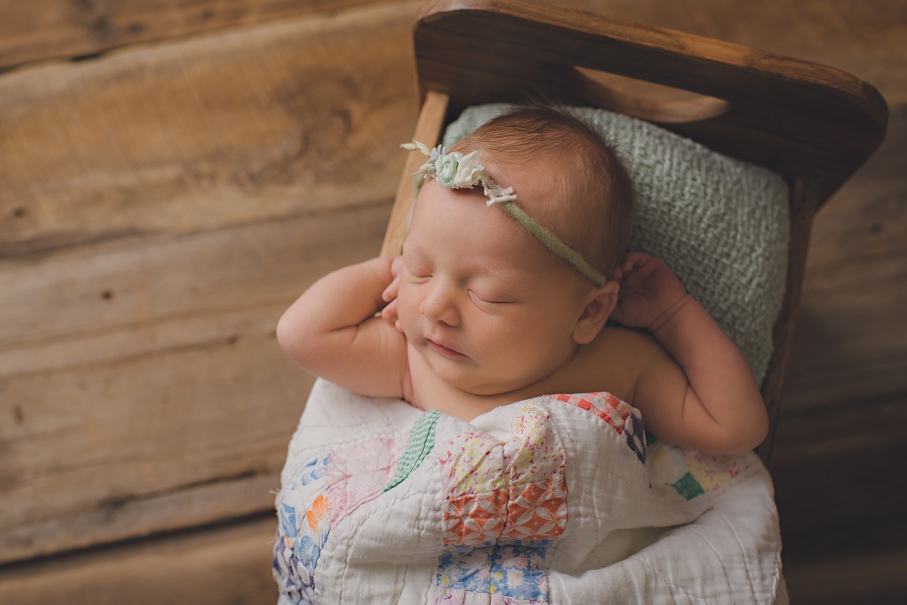 Congratulations!  We are so excited you are interested in having a newborn session. You will not regret documenting this time of your baby's life.
When should I schedule my session?
The optimum time frame to hold your newborn session is between 5 and 12 days after birth. This gives your baby time to get comfortable with his new environment, to get past the peak point for jaundice (and before the peak point of infant acne), and to fall into a bit of a routine with eating and sleeping. Your baby will be within the period of deep, deep sleep reserved only for the newest of newborns, and preferred mold-ability. After 12 days, your baby will become a bit more alert, making posing a bit more of a challenge, and the squishy, cuddled-up-into-a-ball positions difficult to obtain. Plus, we get them at their tiniest and 'newest'. However, we wouldn't turn away the opportunity to photograph your precious bundle while they are still a 'newborn'. Anytime until 6-weeks falls within this time period and after that, we suggest waiting until 3 months for your baby's portrait or lifestyle photography session.
We genuinely encourage you to schedule your newborn's session before you've had your baby.  We will connect beforehand and I will reserve your session according to your due date.  Once you are on our calendar, you will be given priority after your baby arrives.  Just give us a call and we'll schedule your appointment from there!
Where is the session location?
All posed newborn sessions are held at our studio in Hawthorn Woods, IL and lifestyle/non-posed newborn sessions are held at your home. For posed sessions we will have our set-up ready which will allow us to ease right into the session and you will have access to our ever growing collection of props.
Do I need to bring anything?
We will provide every prop and accessory for your session – baskets, blankets, hats, headbands, backdrops – all are property of Lacey Ellyn Photography and you will have access to it all! However, if you would like to incorporate a special item, such as a hat or blanket, please let us know!
Are sibling photographs included in a newborn session?
It's our experience that newborns can sometimes get over stimulated during family or sibling sessions, so we request that siblings come at the very end, the last 20 minutes of the session to take their photos with their new brother or sister.
What is included?
Following the completion of your session, we will process a selection of 20-30 images and within 3 weeks you will be able to view them via your online photo gallery. You will be able to download the images and will receive a copyright print release. Print and gift ordering is available for 2 weeks.
Just as it is my goal to capture precious photos of your newborn, I will strive to make our session a relaxing, pleasurable experience for you. Please contact me if you have any questions regarding a custom newborn  photography session. Thank you.
 Newborn Session $600.00
3-4 hour session
Extensive collection of props and accessories to choose from
Custom photo retouching on 20-30 images all in color and black and white
Includes all high resolution photos and copyright print release
Online photo gallery and print/gift ordering for 2 weeks
Watch Me Grow Package $1825
Full newborn session
Mini maternity session or mini 3 month session
Full 6 month session
Mini 9 month session
Full one year session (cake smash $50 additional)
50% deposit required at newborn session and remainder due at 6 month session
 Mini Watch Me Grow Package $1325
Full newborn session
Full 6 month session
Full one year session (cake smash $50 additional)
50% deposit required at newborn session and remainder due at 6 month session
Prints Included In Both Packages: 
One 11X14 Print
Includes digital images along with copyright print release of images for all sessions
Please refer to session descriptions for additional information on what is included
*Prices are subject to change at any time. A booked session has locked in prices and any changes do not apply. I do not provide unedited images as it is not a reflection of my work*